Боротьба з домашнім насильством згідно з національним та міжнародним правом: розгляд незліченних юридичних порушень, які порушують захист конституційний прав жінок у Камеруні
Ключові слова:
бойові дії, сексуальне насильство, закон Камеруну, порушення, права жінок
Анотація
The notion of violence especially on the rights of women has been plagued with lots of plausible euphoria jeopardizing the initial rational and objective of the human rights placement, that of ensuring that everyone should be treated with respect and fundamental dignity. The situation has become appalling and frustrating as women encounter violations on their various status and rights, making them becoming subjects of ridicule. Willing to ensure the recognition and protection of women, Cameroon has adopted a series of international, regional and national laws aiming at ensuring a safe and secured environment for the protection of women rights and status. Regardless of the various measures set by the country, the notion of domestic violence appears to be more of a pandemic than a curable substance as issues of women protection are concerned.
This article is of the opinion that the concept of domestic violence in Cameroon is accelerating as most women are still treated as an object of commodity in the eyes of many. There is a continuous violation of women rights especially in aspects of sexual violence and discriminatory practices meted on women. This situation has become worrisome, as many question the future of women rights in Cameroon as issues of sexual violence escalate, thus affecting tremendously the prestigious status to be occupied by women in the society. In answering the above question and hypothesis, there will be the need to evaluate the domestic violence environment in Cameroon by questioning the complexities in the country on issues related to combatting domestic violence, and examining the way forward.
It is convenient and an established scourge beyond all reasonable doubt that, the singularity of sexual violence continues to be a hard nut to crack notwithstanding all the remarkable efforts put in place by the government of Cameroon in ensuring its fight. we continue to experience aspect of violations and abuses on the women right making those harmful practices meted on the women to be turned an unrealistic atmosphere. To this set, it is advisable that more efforts, mechanisms and methods should be invested by the government of Cameroon to establish a favorable climate and environment in the protection and preservation of women rights and status in the country.
Посилання
Broken bodies, shattered minds Torture and ill-treatment of women (2001). Act Amnesty International. 40/001/2001 https://www.amnesty.org/en/wp-content/uploads/2021/06/act400012001en.pdf [in English].
Universal Declaration of Human Rights (1948), G.A. Res. 217A (III), U.N. GAOR, 3rd Sess., at 71, U.N. Doc. A/810 [in English].
International Covenant on Civil and Political Rights (1966), Dec. 16, 999 U.N.T.S. 171 [in English].
International Covenant on Economic, Social and Cultural Rights (1966), Dec. 16, 999 U.N.T.S. 171. [in English].
Optional Protocol to the Convention on the Elimination of Discrimination Against Women (1999), Oct. 6, 2131 U.N.T.S. 83. [in English].
Convention Against Torture and Other Cruel, Inhuman, or Degrading Treatment or Punishment (1984), Dec. 10, 1465 U.N.T.S. 85 [in English].
European Convention for the Protection of Human Rights and Fundamental Freedoms (1950), Nov. 4, 213 U.N.T.S. 222 [in English].
American Convention on Human Rights (1969), Nov. 22, 1144 U.N.T.S. 123 [in English].
Inter-American Convention on the Prevention, Punishment and Eradication of Violence Against Women (1994), June 9, 33 I.L.M. 1534. [in English].
African Charter on Human and Peoples' Rights (1981), June 27, 21 I.L.M. 58. [in English].
Declaration on the Elimination of Violence Against Women (1993), G.A. Res. 48/104, U.N. GAOR, 48th Sess., art. 1, Supp. No. 49, at 217, U.N. Doc. A/48/49 [in English].
Constitution of the Republic of Cameroon (1996), adopted on 18 January. URL: www.ilo.org/dyn/natlex/docs/ELECTRONIC/43107/97788/F-2103476279/CMR43107%20Eng.pdf [in English].
Penal Code of the Republic of Cameroon (2016), adopted on 12 July 2016, № 2016/007. URL: https://wipolex-res.wipo.int/edocs/lexdocs/ laws/en/cm/cm0 14en.html [in English].
Civil status registration (1981): Ordinance no. 81-02 of 29 June. URL: https://www.equalitynow.org/discriminatory_law/cameroon_the_civil_ status _registration_ordinance_no_81_02_of_29_june_1981/ [in English].
Coomaraswamy, Radhika (2003). Special Rapporteur on violence against women, Report to the Commission on Human Rights, UN Doc. E/CN.4/2003/75 [in English].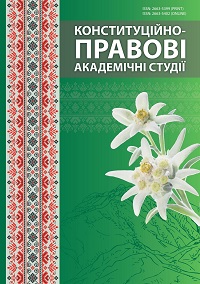 ##submission.downloads##
Розділ
РОЗДІЛ 1 АКТУАЛЬНІ ПИТАННЯ КОНСТИТУЦІЙНО-ПРАВОВОГО СТАТУСУ ЛЮДИНИ І ГРОМАДЯНИНА